ABOUT US
OsteoPlace offers Osteopathy, Myotherapy and Remedial Massage close to the heart of Bulimba. We strive to provide a professional approach to treatment with the aim to deliver the most comprehensive and complete care for the individual.
Each condition or injury if acute or chronic is unique to the individual. At OsteoPlace the practitioners are highly trained to identify injuries, ranging from minor through to serious with each condition requiring an individual assessment and treatment program.
The practitioners at OsteoPlace will gather information from detailed clinical questioning regarding your health and current injury, followed by an assessment of your body including posture, range of movement testing and special orthopedic examination to either rule in or out any serious clinical conditions.
Each patient is treated individually with full attention from the Osteopath and myotherapist, using a broad range of techniques to ensure the best possible outcome.
People of all ages from children to the elderly will suffer from traumatic or postural stress placed on their bodies. If the body is not at its optimum health these stresses will play a part in the presents of pain and restriction of movement. Osteopathic medicine and myotherapy/remedial massage is designed to reduce these affects to help return the body to optimum health and prevent an injury that may occur.
If you would like to learn more about Osteopathy, Myotherapy and Remedial Massage please check the relevant pages for more information.
WHAT WE TREAT
Neck and Shoulder Pain
Back Pain and Disc Injury
Sciatica
Headaches and Migraines
Sports Injuries
Muscular and Joint Pain
Sprains and Strains
Posture and Ergonomics
Arthritis
Repetitive Strain Injuries (RSI)
Pregnancy and Post Pregnancy Care
TMJ and Jaw Pain
Vertigo
Improved Performance
Respiratory Restrictions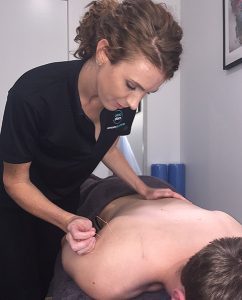 TECHNIQUES WE USE
Massage
Joint Manipulation
Dry Needling
Muscle Energy Techniques
Counter strain
Stretching
Joint mobilisation
Rehabilitation exercises
Postural assessment
Strapping and taping
Crainiosacral therapy